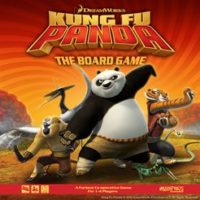 Kung Fu Panda: The Board Game
It's an awesome co-operative game where you get to play as one of the Furious Five or Dragon Warrior Po. Explore the game's different challenges as you come up against Ox Grunts, Wolf Slashers & Spearmen, the Wolf Boss or Tai Lung himself. All featured as cool plastic miniatures with double-sided tiles representing classic locations from the Valley of Peace!
The game uses the Furious Action Dice which show various faces: a Kick, a Punch, two Moves, a Chi and a Claw. Players frantically roll four dice, to get different combos to move around the board, attack enemies, and complete exciting objectives before the sand timer runs out. Watch out for the Claws, as they move the Dial of Destiny triggering your enemies to spawn and attack!
Add a Review for "Kung Fu Panda: The Board Game"