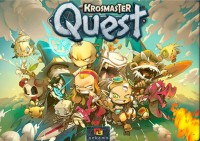 Krosmaster: Quest
Krosmaster: Quest is an all new adventure game set in the Krosmaster universe.
Gather your heroes and depart on your quest! Heroes will work together to defeat villains and try to achieve their own unique quest goals. Designed for 2 to 6 players, take control of a Krosmaster and develop them in a modular world where each adventure is different! Kill monsters, win money, choose your allies and enemies, increase your power, and prove to the Demon that YOU are the rightful king of the Krosmoz!. The box includes seven new Krosmaster figures with character cards (two exclusive), more than 600 pieces, 16 terrain parts (which can be used in Arena), more than 40 settings, and 6 special dice.
Krosmaster: Quest comes with its own Heroes but is completely compatible with previously released heroes from the Krosmaster franchise! So you are free to play with any Hero you like!
Can be played as a full cooperative game or a competitive game, depending on what you want. As a cooperative game, players work together against one player acting as the Demon. As a competitive game, each player tries to get as many treasures as possible on the board.
Add a Review for "Krosmaster: Quest"