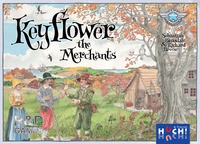 Keyflower: The Merchants
Keyflower - The Merchants is the second expansion for the game Keyflower, in which the Keyples become merchants. The players continue the development of their village now even further by building extensions and huts, concluding profitable contracts and cleverly using the new elements on the incoming ships.
Add a Review for "Keyflower: The Merchants"