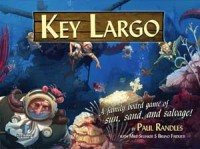 Key Largo
Key Largo transports players into the Florida Keys in 1899. As the new century dawns, players ply the thriving trade of finding treasures in shipwrecks around the island. Before a hurricane hits, players need to search the many shipwrecks and sell the lost treasures to the island denizens for as much cash as possible.
The action takes place on a Caribbean islanited, in the very last days on the 19th century. The island has long been a pirate's harbour, and it has recently be found out that there were many sunken galleons around. Hurricane Katty is due in ten days, so you have little time to hire a diver team and bring back as much sunken treasure as possible.
Add a Review for "Key Largo"