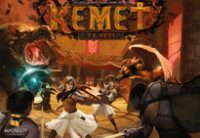 Kemet: Ta-Seti
The mysterious city of Ta-Seti has emerged to the south of Kemet; but the path to get there is a long and dangerous journey. While your priests travel to this newfound city, battles still rage on in the land of Kemet. New creatures rally to your cause as you use powerful magic objects and unleash the dark forces of the black pyramids...
A game in the same vein as Cyclades, with a strong atmosphere which will transport you through the ancient times. Between battles and magic, be the finest of all the strategists!
Add a Review for "Kemet: Ta-Seti"