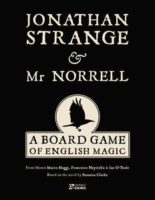 Jonathan Strange & Mr Norrell
Set during the events of the cult-classic book, Jonathan Strange & Mr Norrell sees players delve into the world of English magic, developing their talents and expanding their social reach as they aim to become the most celebrated magician of the age.
Take on the role of an aspiring magician, including the titular characters Jonathan Strange and Mr Norrell themselves, and start them down the path to greatness. Build up your power and status by travelling across Europe and London, performing feats of magic and attending social engagements. The most celebrated magician will face the gentleman with the thistle-down hair, but only the strongest will defeat him.
Add a Review for "Jonathan Strange & Mr Norrell"