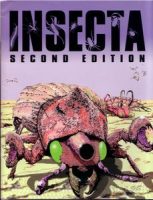 Insecta
Imagine a world where bugs rule! Imagine designing your own mutated bug which grows and metamorphoses as it gobbles up its prey. Get a bug's-eye view as you face the voracious Hive insects.
Players design mutated insects using bug cards — head, appendages, and abdomen. Then they try to fight their way out of an underground Hive, filled with real-world desert arthropods, from preying mantises to centipedes. As the mutants defeat their enemies, they may eat them to get bigger, stronger, and uglier. Special rules cover projector weapons, web bolas, expendable spines, pheromones, venom, and armor.
NOTE: This game is currently OUT of PRINT, but on the Fat Messiah Games website you can create an equivalent product by combining the Mutant Kit and ANY of the other Insecta expansions.
Add a Review for "Insecta"