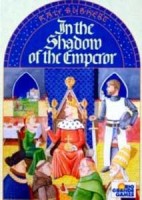 In the Shadow of the Emperor
Germany in the late middle ages! It is a time of flourishing cities, influential bishops, the powerful popes, and a pompous aristocracy. In such a volatile climate, no dynasty can remain in power for long. Several aristocratic families seek to acquire the crown of the emporer. But this decision lies in the hands of the seven elector. 2–4 emporer candidates use their knights and cities, marry their barons, and work to influence the electors. But all efforts are useless if the candidate is not elected to be emporer. But, in the shadow of the properly elected emperor, are always those who want to displace him and become the new emperor.
Add a Review for "In the Shadow of the Emperor"