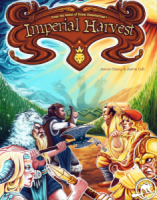 Imperial Harvest
A tactical pocket-game featuring characters from the world of Royal Strawberries.
Welcome to the wild lands of Feorhyrna, where grow the world's most desired fruit—the Royal Strawberry! Servants of the Imperial Court have been tasked with the mission of harvesting this magic fruit from the Emperor's private gardens. Upon arriving at the Imperial compound, however, the servants are chagrined to discover Raiders from the North climbing the walls, hastening to harvest the fabled fruit for themselves.
In Imperial Harvest, players take control of two opposing teams and race to collect the greatest number of Royal Strawberries. To be successful, each player must master the powers of their respective characters, navigate the Imperial Gardens, evade enemy attacks, and collect the majority of the realm's mysterious, magical fruit.
Players construct a board populated with hedges, moats, and hydras, then manage a team of three champions who will raid (or protect) the Imperial strawberry patch.
Will you lead the cunning sorceress and wild barbarian to their conquest? Or will you meet their aggression with the sturdy monk and staunch imperial guardian? Rally your forces with the bard's ballad, outwit your enemies, and snatch those strawberries!
Got a second copy of Imperial Harvest? Expand your board and bring two more players to the table! (Tag Team rules included.) 2 copies = 3-4 players/40 minutes. 3 copies = 5-6 players/60 minutes.
Add a Review for "Imperial Harvest"