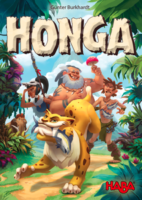 Honga
The saber-toothed tiger clan is looking for a new leader! But only the player who collects the most supplies, barters successfully, and pays homage to the old nature gods, will prove worthy. You must never under any circumstances forget to take care of HONGA! Because whoever neglects the saber-tooth tiger will have all of their supplies eaten by him.
Place your action disk on the game area in a tactically clever way. Pay attention to HONGA (a) and carry out the selected actions (b). Use your options to be the first to collect the required victory points and become the new clan leader. The new family game Honga is exciting for beginners and frequent gamers. The game material is set up in a flash and 2 to 5 players can compete in this varied tactical game. This much is clear - only one of them can become the new leader of the clan!
Add a Review for "Honga"