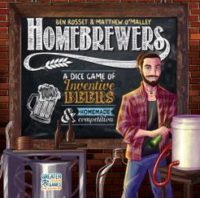 Homebrewers
Welcome to the hobby of homebrewing!
You're a new homebrewer, looking to make all sorts of new and interesting beers in the comfort of your own home, and you've just joined a local homebrew club. Now it's time to have a friendly competition with your fellow homebrewers and see who can become the club's best brewer! Homebrewers is a competitive game for two to five players designed by Ben Rosset (Brew Crafters, Brew Crafters Travel Card Game, Between Two Cities) & Matthew O'Malley (Diner, Between Two Cities, The Princess Bride: A Battle of Wits) and illustrated by Adam Rebottaro, artist of the award-winning game Sentinels of the Multiverse, and SaRae Henderson.
Add a Review for "Homebrewers"