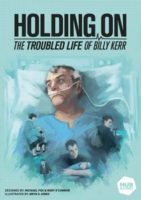 Holding On: The Troubled Life of Billy Kerr
Your latest patient has been rushed to your medical facility following a massive heart attack on a flight from Sydney to London. Can you work together to discover the truth behind Billy Kerr's story before it's too late?
Over the course of thirteen rounds, players must work co-operatively to provide both physical and palliative care to the dying Billy Kerr. Physical care will keep him alive for longer, but only palliative care will help you build up the trust required for Billy to tell you the stories behind his memories. Difficult decisions and careful planning come together in a race against time that plays out over ten linked Scenarios. Members of staff will work as a team to uncover new mysteries about their patient every time they play, as the story builds up to a dramatic, tension filled conclusion.
Join Rodney Smith from Watch It Played for an in-depth, spoiler-free rundown on the rules of Holding On: The Troubled Life of Billy Kerr!
Play Experience
Holding On offers a very different kind of game to anything else seen before - a deep, emotionally impactful story is woven through an accessible, co-operative game where players must collaborate and support each other. Failure to do this will see their plans crumble and victory will become nearly impossible. Each of the game's ten Scenarios encourages different approaches as you develop your relationship with Billy Kerr, discover more about his story, and even contact people from his past in a race against time. Each Scenario is also fully replayable, and the game can be reset so a whole new group can work their way through the final days of Billy Kerr. Taking an emotional, mature approach to tabletop gaming, Holding On: The Troubled Life of Billy Kerr is a game unlike any other.
Share Your Experience (No spoilers!)
We would love to hear about your experiences with Holding On - but in a game that is packed with secrets, twists and turns, we're encouraging players to please respect others when discussing their discoveries. Each group that plays will learn about Billy's past in different ways, and while everyone will eventually know his whole story, we ask that you keep the specifics to a minimum when talking about The Troubled Life of Billy Kerr online. We'll be keeping an eye on the #BillyKerr hashtag across social media, and don't forget to ask us directly if you want to know more about the game or Billy's story.
Why is this a Game with HEART?
We wanted to tell a very different kind of story with Holding On, one that would invoke discussion not just at the table during play, but that would stick with players long after they'd reached the game's climax. While Billy is a fictional character, the trials and tribulations he goes through will be recognised by countless people across the world. The gameplay is accessible and focuses on co-operative play, meaning that players must work together to succeed, and emphasises the idea that Palliative Care is as vital as physical care in modern medicine. While the rules may be initially easy to grasp, Holding On forces players into making many difficult decisions as they weigh up the value of keeping Billy alive against helping him with his requests. Dealing with mature themes of loss, death and illness, this is a unique experience that is truly a game with heart.
Add a Review for "Holding On: The Troubled Life of Billy Kerr"