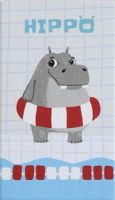 Hippo
Hippo!
The real danger ? The other players !
Are you afraid of hippopotamus ? You should not be. In Hippo, they are grateful. You should rather be afraid of your opponents !
The goal ? To get rid of your chips as soon as possible.
Two solutions : give your chips to the hippos or give your chips to the other players.
All the players will be kept in suspense until the very last seconds of the game.
Add a Review for "Hippo"