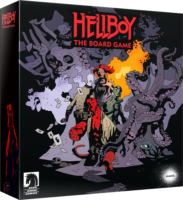 Hellboy: The Board Game
Inspired by the legendary tales of horror, myth and folklore by Mike Mignola, Hellboy: The Board Game is a fully cooperative experience for 1 to 4 players. You become a member of the Bureau for Paranormal Research and Defence (BPRD), ready to investigate occult threats that threaten our very existence. You will explore gothic locations, hunt down clues, discover artefacts, fight horrific creatures and face off against terrifying bosses.
Hellboy: The Board Game gives you the chance to take control of an iconic member of the BPRD. Choose from Hellboy, Abe Sapien, Liz Sherman and Johann Kraus before equipping your agent with additional items that will help in the mission ahead. Each trinket, charm or weapon costs money though, so you'll need to spend wisely. Each of the missions in the core game begins by reading a BPRD Case File. This will set the scene for the investigation ahead and give hints about what threats you may encounter. The contents of each Case File are top secret, so the first time you play you'll have no idea what you're about to face!
Add a Review for "Hellboy: The Board Game"