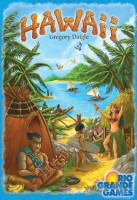 Hawaii

The sun, the wide-open sea, and a gentle breeze Five Hawaiians are enjoying the beach and the sun and all agree that the most recent choice of chieftain was good and the title well earned. And, each brags that next time, he will be the one chosen. To demonstrate their worth, each vows to build the most beautiful village on the island.
In Hawaii the players play the game on a variable game board that is different for each game. Thus, the players must adjust their strategies to the board each game in order to be successful. The player who manages to find the best tactics for the board offered will win the game and the admiration of the other players. The players will need to decide when and what to build, when to buy, and when to wait.
Hawaii offers a variable game experience for up to 5 islanders.
Add a Review for "Hawaii"