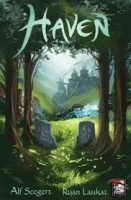 Haven
Defend the mystical forest… or conquer it!
Compete against a friend in a tense, one-on-one battle. Command the forces of the City, intent on domination of the ancient woodland, or lead the creatures of the Forest to defend their home! Each side has unique powers and strengths!
The mystical forest has been home and haven to beasts, spirits, and forgotten gods for thousands of years. While the Haven Guardian slumbers, a nearby human village has grown into a city, hungry to control the powers of the forest. Can the forest creatures discover enough potent lore to defend their ancient home from the oppressive city? Or will the city use this lore to power their machines and turn the forest against itself? The battle for Haven begins!
Add a Review for "Haven"