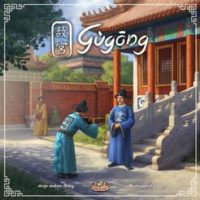 Gugong
Note: Gùgõng was initially introduced as "the Forbidden City". The name was changed before the first print.
China, 1570. China is under the reign of the Longqing Emperor, of the Ming Dynasty. The Emperor has inherited a country in disarray after years of mismanagement and corruption. Realising the depth of chaos his father's long reign had caused, the Longqing Emperor set about reforming the government by re-employing talented officials previously banished by his father. The Emperor resides in the Forbidden city, which was the seat of many emperors under the Ming Dynasty. The Forbidden City is currently known as "Gùgõng" (Imperial Palace) by the people of China. Constructed from 1406 to 1420, the complex consists of 980 buildings and covers 72 ha (over 180 acres). It is also under the Ming Dynasty that the Great Wall of China was rebuilt, fortified and expanded. During this period, China was under heavy attack the Mongols, so maintaining the Great Wall was essential. Most of what we now have left of Great Wall, we owe to the Ming dynasty.
The country was already famous for its very intricate bureaucracy, but this also led to a lot of corruption. However, the Longqing Emperor tried to eradicate corruption as much as he could, by simply having it officially prohibited, and punishable by death.
This measure seemed successful at first, but as we all know, it is not so simple to keep perfect control over one's "loyal" subjects. At the imperial court, the highest officials would pretend to uphold the ban on corruption, and instead of simply accepting money, a new custom saw the light of day: the exchange of gifts.
If a petitioner visited an official to present a request, they would also present a gift. And naturally, the official would return the honour by presenting a gift in return. If the gift of the petitioner was something quite valuable, like, say, a Jade statue, and the return gift from the official was a cheap paper fan, it was hard to regard this as an act of bribery. However, both knew very well how valuable the symbolism of said item could be…
"Gùgõng" uses this extraordinary custom as its basis. The players take on the role of powerful Chinese families trying to gain influence and power by bribing certain officials responsible for certain tasks, by offering suitable gifts.
A player wins by gaining an audience with the emperor. If several players succeed to do this, the player with the most VPs amongst those players wins the game.
Add a Review for "Gugong"