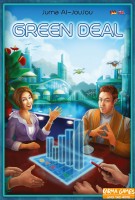 Green Deal
GREEN DEAL is a strategy board game and was successfully crowdfunded on Startnext in May 2014 and delivered to its backers in September 2014.
In the board game GREEN DEAL you lead an international corporation in 2050! Try out different strategies to successfully lead your corporation and win against the tough competition! With smart investments in project and PR campaigns you leave your opponents behind.
You should always keep an eye on your finances. Only with enough cash at hand you can invest in interesting projects or pay dividends to you shareholders. Forge alliances and increase your income by cooperating or sue your competitors for some fresh cash. Can you meet your short-term needs and still follow your long-term goals?
But your business must not only be profitable. Due to resource scarcity and social distemper, governments increasingly require clean production and compliance with social standards.
Each round players invest in project and action cards. About 30 different action cards give you special abilities and make each game session unique.
Before each round all players bid simultaneously for the turn order. By investing in PR-campaigns you can determine secretly in which categories you want to boost your image in oder to get additional victory points.
How would you lead an international cooporation in 2050?
Add a Review for "Green Deal"