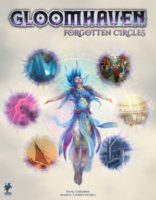 Gloomhaven: Forgotten Circles
Forgotten Circles
If you've subscribed to my newsletter, you've probably already been made aware of this, but I just want to make sure I'm covering all my bases here. Forgotten Circles, which I've discussed at length previously, is finally ready for the printer, and so I've launched a pre-order for it. It's not a fancy Kickstarter or anything, but I just wanted to make sure everyone who wanted the expansion was able to get it without going through the hassle of ordering it elsewhere and having to worry about whether that order will be fulfilled. We're trying to print enough to meet the demand of retail, but, as always, it's difficult to gauge exactly what that is, so pre-ordering through me is the sure bet.
Forgotten Circle is going to be amazing, by the way! All the scenarios Marcel designed are unique and very challenging. It will create a very diverse and dynamic experience, with a scenario book that is set up to hide stuff from you, allowing for lots of puzzles and secrets. The only down side is that you'll need to finish the campaign from the main game before delving into the new one, but you can still play the new class, the Aesther Diviner, right out of the box, no matter where you are in the campaign
Add a Review for "Gloomhaven: Forgotten Circles"