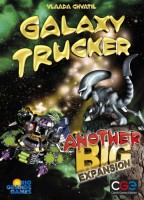 Galaxy Trucker: Another Big Expansion
Veteran Truckers Wanted! Corporation Incorporated, after years of successful business in the far reaches of the known universe, is looking for experienced galaxy truckers, who are willing to go the extra parsec for high sums of cosmic credits. Commitment to longer flights required, advanced close combat training a big plus.
Did the first Big Expansion challenge your piloting skills? Are you confident enough to brave new challenges and take advantage of new opportunities? Do you want to make your game harder and more complex, or would you like to even the odds a little in favor of players who are new to the game?
This expansion gives you this and more! It gives you several different rules and components with which to modify and improve your game more to your play-style. This expansion can be used with just the original Galaxy Trucker or together with the Big Expansion.
Add a Review for "Galaxy Trucker: Another Big Expansion"