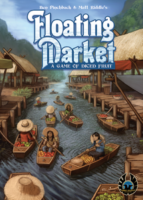 Floating Market
Floating Market utilizes polyhedral dice, worker placement, and dice speculation to create a unique and accessible experience for gamers of all levels. The rules and turns are simple and intuitive and the game teaches quickly, making it perfect for a family or group of new gamers. Experienced gamers will appreciate the unique blend of new and familiar mechanics and the quick, fun gameplay that uses polyhedral dice in a new and interesting way.
In Floating Market, players each control Customers (Ama's grandchildren), which they will assign to fruit boats (to collect Fruit) and to buildings (to receive special abilities). Each player will also add a die to the dice pool each round in an attempt to influence a thrilling die roll that determines which fruit boat will hand out fruit.
Add a Review for "Floating Market"