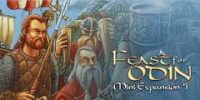 A Feast for Odin: Mini expansion 1
BEYOND THE HORIZON
The Vikings were known as a strong seafaring people, leading expeditions into lands both known and unknown. You can continue this tradition with the first mini-expansion for A Feast for Odin. Featuring two new exploration boards, this mini expansion adds more options than ever before. Sail to archipelago of Lofoten, visit the Orkney Islands, or travel all the way to the Tierra del Fuego as you seek out new wealth. With every new land you visit, you'll discover new opportunities to generate more income and obtain new bonuses. Show your courage and brave the seas to bring glory to yourself and your band of Vikings. Your saga continues!
A FEAST FOR ODIN IS REQUIRED TO ENJOY THIS GAME.
Add a Review for "A Feast for Odin: Mini expansion 1"