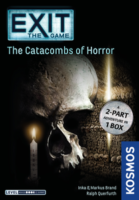 Exit the Game: The Catacombs of Horror
Gloomy crypts lie under the city of Paris. The catacombs swallow city light, riddles, and, apparently, also people. After the mysterious disappearance of a friend in the catacombs, you and your team embark on a search party, making your way through the puzzling underground labyrinth. Will you be able to find your friend in time and escape this cavernous world of darkness? This double-sized EXIT game is presented in two separate parts.
Difficulty: 4.5 of 5 Would you prefer to have the rules of this game explained to you instead of reading the rulebook? If so, download the Kosmos Helper App. In the app, you can find animated explanations of the instructions and other helpful features for a selection of Kosmos games. Available on iOS and Android devices, find the app by searching "Kosmos Helper App" in the iOS App Store or in Google Play. Now you can watch the animated instructions to learn these games without reading the rulebooks.
Add a Review for "Exit the Game: The Catacombs of Horror"