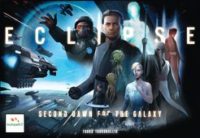 Eclipse: Second Dawn for the Galaxy
Eclipse Second Dawn for the Galaxy is the updated core game of the space opera masterpiece from designer Touko Tahkokallio and publisher Lautapelit.fi.
Eclipse is a "4X" game where players will command a human or alien species that explores, expands, exploits, and exterminates their way to victory. Over 8 rounds, each player will select actions to achieve their goals, carefully managing resources, engaging in epic battles with one another and the Ancients that lie in wait. Only one will guide the galaxy toward the second dawn. This new edition features new components and thoughtfully revised content, incorporating material from former expansions to create the best possible updated version of the game.
Add a Review for "Eclipse: Second Dawn for the Galaxy"