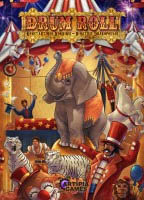 Drum Roll
Drum Roll uses worker placement mechanism. Players take over the role of circus owners in the early 1900s. They travel around Europe and give shows.
During the game players will have the opportunity to hire performers and personnel to work in their circus. Each performer will have specific requirements in order to give the best performance. For a successful show, players will have to satisfy the needs of their staff and after the curtain drops, pay salaries.
In each game, players will give 3 shows. Before each show they will have 5-7 turns of preparation where they can acquire resources, sell tickets, invest and hire new staff.
By the end of the 3rd show, the player with the most prestigious circus is the winner.
Add a Review for "Drum Roll"