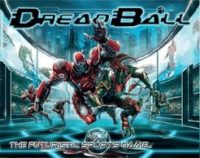 DreadBall (Second Edition)
WHAT IS DREADBALL?
DreadBall – The Futuristic Sports Game is a fast and fun tactical miniatures sports board game from Mantic Games. A sports board game for 2 players set in the far future, take on the role of Coach and compete for victory with teams of beautifully sculpted miniatures, on a highly stylised and finely detailed sci-fi pitch. The game is easy to learn, fast to play, yet offers tactical depth to master, with carefully orchestrated plays and counter attacks hinging on clever positioning and the mercy of the dice gods! Whether you're new to the world of this futuristic sport or a seasoned DreadBall veteran, with 2nd Edition you can expect the following: FAST SPORTS ACTION Score outrageous strikes or pummel your opponent with wicked slams! DreadBall is a fast, furious sports game with intuitive rules, updated for 2nd Edition after player feedback from the countless matches and tournaments played around the globe. THE PITCH OF THE FUTURE Made from futuristic neodurium (well, thick cardboard), the high quality DreadBall pitch is your playing surface. It's been upgraded for the new season with larger hexes and location zones for your action counters, cards and dice. It's also double sided, with the DreadBall Ultimate pitch on the reverse side. COMPETITIVE TEAMS DreadBall – The Futuristic Sports Game has a diverse cast of teams, from high-scoring Judwan to bruising Hulks and speedy Veer-myn. Second edition introduces new teams, such as the Ninth Moon Tree Sharks Yndij Team and the Draconis All-Stars Robot Team. EXPLODING BALLS & SLIPPERY PITCH The game's card deck provides additional actions and special events, reimagined for more diverse play on top of the furious dice-driven action.
Add a Review for "DreadBall (Second Edition)"