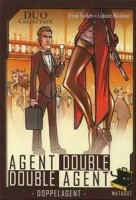 Double Agent
A dark conspiracy threatens civilization and every spy agency is on full alert! There is no way any of them will work together, though, as only the organization that has defeated the menace will get the rewards and glory.
The loyalty of the agents sent on this mission only goes so far though... Will you be able to influence them enough for them to give you their precious documents?
Double Agent is a neat and quick game by Bruno Faidutti (Citadels, Tomahawk...) and Ludovic Maublanc (Dice Town, Cyclades...), which calls upon your deduction and bluffing skills, in a game that lasts about twenty minutes.
Add a Review for "Double Agent"