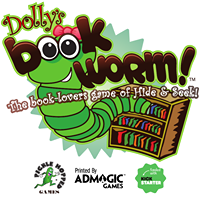 Dolly's Bookworm
Dolly's Bookworm was invented by an 11-year-old girl, Dolly P.!
Dolly created the game to share the love of books with her beloved Grampy and with other children around the world. Positive feedback from professional game designers led to the successful Kickstarter, with the help of Pickle Hopped Games! Our printing partner, AdMagic, provided great art and publishing support. Secret Builders and Folio3 created our mobile apps. Dolly's Bookworm was a Kickstarter "Staff Pick" and was selected for the 2014 Boston Festival of Indie Games.
Add a Review for "Dolly's Bookworm"