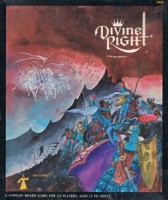 Divine Right
Divine Right is a strategic fantasy game in which players assume the role of Minarian monarchs. Armies are small and replacements hard to come by; a careful choice of commitments is essential. The object is to capture and plunder enemy castles for victory points.
Concurrent with the military effort is a diplomatic subgame. Ambassadorial pieces attempt to form alliances with the non-player kingdoms on the map. These non-players are assigned Personality cards, which substantially modify the behavior of their kingdoms--sometimes diplomatically, sometimes militarily, or both. Alternately, ambassadors may try to break up enemy alliances with diplomatic pressure--sometimes even bring them over to fight on the friendly side.
Add a Review for "Divine Right"