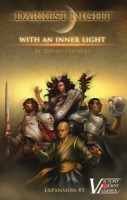 Darkest Night: With an Inner Light (Expansion #1)
A new wave of refugees arrived yesterday, telling tales of hordes of shades overwhelming their homesteads. I immediately sent word to the Prince, though I don't know if he can do anything for them. The monastery is now abuzz with word of a stranger who arrived this morning. Though his countenance was grave, he shone with an inner light…
Darkest Night: With an Inner Light, by designer Jeremy Lennert, introduces a quest system that requires the heroes to respond to crises throughout the kingdom and offers new ways to acquire items and powers. The expansion also adds four new playable heroes (the Crusader, Monk, Paragon, and Shaman) as well as new event and artifact cards.
NOTE: This game requires that you (or someone in your group of players) own a copy of Darkest Night.
NOTE #2: The MSRP listed is for the boxed edition of the expansion. A polybagged edition is also available, for $14.99.
Add a Review for "Darkest Night: With an Inner Light (Expansion #1)"