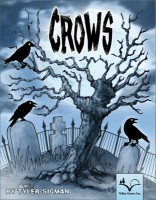 Crows
Crows are smart, but they have a weakness for shiny objects. You have a shiny object, but so do your friends. There are too many shiny objects demanding the crows' attention!
Players take turns placing tiles and then positioning their shiny objects to attract the most crows. Crows flock to the shiny objects based on simple rules. It's going to take some wits to attract the most crows!
When the deck of tiles has been exhausted, the player who has the scored the most points wins.
Add a Review for "Crows"