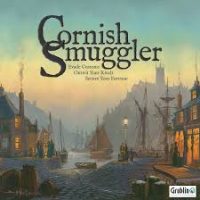 Cornish Smuggler
Evade customs, outwit your rivals and secure your fortune.
In Cornish Smuggler you will have to employ strategy and risk to buy and sell contraband, cultivate a network of local characters, trade in secret knowledge, utilise hidden locations and secret landings, bribes, dirty tricks and a healthy dose of cunning to evade the attentions of the Customs Officers and your fellow smugglers.
The object of Cornish Smuggler is to sell your goods at the highest prices, gain reputation and be the smuggler with the most Gold and Reputation at the end of the game.
There are many possible paths to victory in Cornish Smuggler. Throughout the game, players will have to adapt their strategy to accommodate the actions of the other players, employ the right characters, buy the right goods, discover the right secrets and make the right deals.
Cornish Smuggler doesn't have any dice and you choose how you want to play - leaving a minimum of random event and a maximum of smart, tactical game playing.
This is a richly thematic, drawing on genuine historical activity and based around our research into smugglers in 18th Century Cornwall.
Cornish Smuggler has detailed illustration throughout and can be played with a bespoke soundtrack (stream or download for FREE online).
Whats in the Box
When we were originally crowdfunding Cornish Smuggler, we raised a lot more than we needed to produce the game so we put all that extra gold back into the Cornish Smuggler. As a result, this game is Cornish Smuggler is absolutely jam-packed full of high quality components so that when you buy Cornish Smuggler, you know you're getting your Gold's worth!
Add a Review for "Cornish Smuggler"