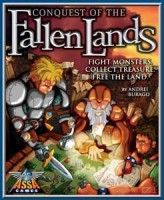 Conquest of the Fallen Lands
In a faraway corner of the kingdom, these once-fertile lands have been invaded by vile hordes of monsters. Their control over the area has become complete, and they have begun to strengthen and fortify themselves for an assault on the rest of the kingdom.
The king summons you and the other leaders of the most noble houses in his dominion and sets forth this grim task: Rid the fallen lands of the savage monsters that occupy them, win back the riches they have plundered and return peace to the countryside!
Add a Review for "Conquest of the Fallen Lands"