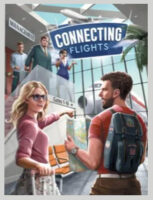 Connecting Flights
Connecting flights is a 1-5 player network/engine builder with auctions & hand management. It can be played in competitive (2-5 players) or cooperative modes (1-3 players).
In the competitive mode, you start the game as the boss of a small airline operating a single flight. Throughout the game, you will acquire planes, passengers and airports by bidding against other players in auctions. Will you target the more demanding passengers, who are difficult to please but generate a higher income, or would you rather become a low-cost airline?
You'll be wise to make friends with other airline bosses throughout the game, as enemies can sabotage you. If that happens, you may get a chance to get your revenge when they least expect it!
Each player has a special ability, so make sure you make the most of yours. Towards the end of the game, connecting all your flights in the most efficient way becomes a mini puzzle in itself! Make sure you get it right, as the player who generates the highest income in the last round will become the ultimate airline tycoon!
Alternatively, you can choose to play in cooperative mode (for 1-3 players). You will work together to transport all passengers to their desired destinations. Will you cope with the increasing passenger demand and manage to get all passengers home before the game ends?
Add a Review for "Connecting Flights"