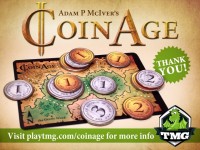 Coin Age
The super portable war/area control game with 2 sided dice (coins).
It's a volatile era in the land of Agea. In the shadow of the Copper Peaks, a battle for control of the realm has begun. Will you further the expansion of The Royal Kingdom of Heads or will you help The People's Republic of Tails fend off the threat of an invading empire?
Add a Review for "Coin Age"