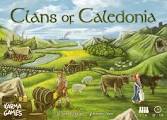 Clans of Caledonia
Clans of Caledonia is a highly replayable economic strategy game for 1 to 4 players set in 19th century Scotland. It was an era when Scotland made the challenging transition from an agricultural country to an industrialized one, heavily relying on trade and export.
As proud members of the old clans you use your unique abilities and cunning skill to earn the greatest wealth and fame.
Clans of Caledonia has a unique blend of mechanisms and includes elements of engine-building games (e.g. Terra Mystica) and economic mechanisms such as a dynamic market (e.g. Navegador) and export contracts (e.g. Voyages of Marco Polo).
The way you produce whisky, bread and cheese from grain and milk is interwoven with the trade and export of goods. This makes it a highly interactive strategy game, with great strategic depth despite having a very accessible rule set.
The modular board, the 8 different clans with unique powers and the multiple scoring and port tiles ensure outstanding deployability.
Add a Review for "Clans of Caledonia"