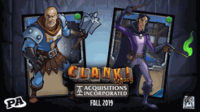 Clank! Legacy: Acquisitions Incorporated
Clank! Legacy: Acquisitions Incorporated extends the deck-building fun of Clank! with exciting new legacy-style gameplay! Found your own franchise of the legendary adventuring company Acquisitions Incorporated, and shepherd your fledgling treasure-hunters to immortal corporate glory over the course of multiple games. Your game board, your deck, and your world changes as you play to create a unique campaign tailored to your adventuring party.
The 9-to-5 of adventuring can be such a grind. Pesky gremlins, sinister vampires, and a giant dragon all stand between you and the treasure you so rightfully deserve. But you're not in it alone. In CLANK! Legacy: Acquisitions Incorporated, you're part of the greatest adventuring company in all of the planes⁠—and you may just end up saving the world! In this Legacy game, you'll work with and against your co-adventurers through a 10+ game campaign. Your successes, failures, and choices will permanently affect the game and the world around you as your journey unfolds, resulting in a unique and endlessly playable Clank! game. The story may end, but the adventure continues!
Add a Review for "Clank! Legacy: Acquisitions Incorporated"