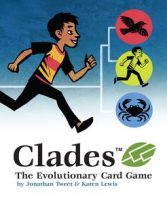 Clades
What is a clade? In biology, a "clade" is a complete branch of the evolutionary family tree. It defines categories of living things by their evolutionary history. This powerful concept has revolutionized the way scientists classify living things, and our new game makes it easy and fun.
Playing Clades: The Clades game consists of 83 cards. Each card has one, two, or three types of animals illustrated on it. On any given card, the animals are all from one of three major clades: mammals, reptiles (including birds), or arthropods (insects, crustaceans, and arachnids). Players try to be the first to spot a match of three cards among 12 cards played face-up on the table. Each player also has a secret card that only they can use to make a match. If you spot a match, you collect those three cards, and whoever has the most cards at the end is the winner. If the match is a "clade" match, such as "all mammals", gives you extra cards. The special Mollusk and Ray-Finned Fish cards also earn you bonus cards. During play, you never wait for someone else to take their turn, and you never get eliminated from the game. You can even play solitaire.
Add a Review for "Clades"