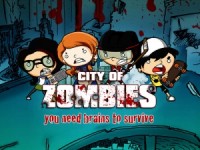 City of Zombies
It's going to take brains to survive this Zombie Apocalypse
Lock and Load your Dice... the Zombies are coming!
Select your Heroes and team up to fight for your lives against the advancing Zombie horde. Roll dice to work out the best combination and take out as many Zombies as possible.
Unlock power ups and battle Zombie bosses. Clear the board for bonus survivor cards, but beware! The Zombies are after your brains, and if your barricade gets overrun, it's game over...
Roll dice to stop the Zombies! Dice can be used individually, or combined together, but all three must be used.
Choose from 20 Hero cards with special abilities.
Battle up to 56 different Zombies in 2 styles including Mega Boss Zombies and fast moving Zombie dogs.
Special Event cards can turn the tide in the favour of Zombies or Heroes.
Bonus Survivor Cards gain you Victory Points and increase your ranking.
Conclusion Cards tell the story of your heroic escape or horrible demise...
Designed for all skill levels, from basic to advanced number play.
Add a Review for "City of Zombies"