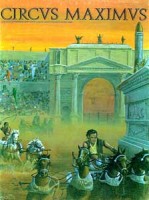 Circus Maximus
Violent and bloody, Circus Maximus details the chariot races that occurred in ancient Rome. Eight teams race around the track three times to determine victory.
Players prepare for the race by selecting the composition of their team of horses, their rider's skills, and the type of chariot that will be driven. Once the race begins the players are free to do as they wish to hamper the other racers including whipping the rider, ramming chariots with scythed wheels, smashing into horses, and running over crashed opponents. A campaign game of multiple races, in which players have to manage their teams and can increase their income by betting on races, is also possible.
Add a Review for "Circus Maximus"