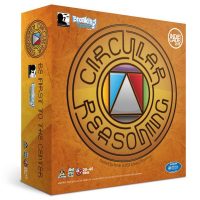 Circular Reasoning
A Strategy Game the Whole Family Can Enjoy
Circular Reasoning is a simple but ingenious group strategy game that the whole family will enjoy playing. The Circular board with its rotating gateways adds just the right dose of challenge and will make this game different every time it's played.
Each player has 3 tokens that move a certain number of spaces on the board.
Circle: 2 spaces
Triangle: 3 spaces
Square: 4 spaces
*Different colors represent each player and all tokens have symbols on them for those who are colorblind.
The players start off at the Entryway with all the Gateways on the opposites side. Each Gateway leads to the next ring of the circle and rotates clockwise as the game progresses.
Players must make their way through the Gateways towards the center ring until someone has all three of their tokens in the middle. Circular Reasoning will definitely get your brain juices flowing and put your strategic skills to the test - every single time!
Add a Review for "Circular Reasoning"