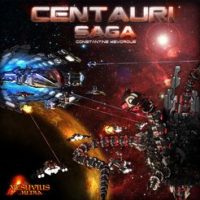 Centauri Saga
Centauri Saga
is a Sci-fi/4X board game for 1 to 4 players, supporting both Co-Operational and PvP mode. Players begin with a mission that defines the setting and their goals and then guide their Armada through unexplored sectors (hexagons) of Alpha Centauri. However, players are not alone. They will encounter various Raiders and Bosses representing a hidden alien menace in the Centauri system. Your Saga begins now!
Centauri Saga is a modular game that provides a solid foundation to create multiple scenarios each one with unique gameplay features! With the core game you get 6 scenarios:
Fixing the Jumpgate: Pick up & delivery
Safe Passage: Survival & Escort
Lost Starbases: Search & Rescue
Open Confrontation: Survival (Tower-Defense-like)
Distress Call: Search & Escort
Add a Review for "Centauri Saga"