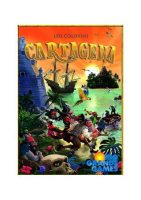 Cartagena (2nd edition)
Our game represents the great jailbreak from the fortress of Cartagena. In this legendary story it is told that pirates managed to escape, running through an underground passage that led them to the beach where a sloop was waiting for them. Once on board, the pirates reached Tortuga Island and there they followed a secret path through its dense jungle and safely reached a cove.
In a few years, a game celebrating this famous jailbreak became very popular in the coves of Caribbean pirates. Within a short time, many other versions of this game flourished among them, stirred up by that anarchic spirit that has always characterized pirates.
This "Cartagena" is a modern version of the ancient Game. The Basic-Game reproduces only the first part of the jailbreak: the escape from the fortress. You may also choose to play the second part through the island of Tortuga or the whole story as well.
You can also shorten or stretch the game, varying the number of board segments and/or pirates. Then, you can give a try to the Morgan version. It's an alternative way of recharging cards, which…will force you to explore completely new strategies. Finally, you can choose the Black Magic Woman system. Things change here. Whatever scenario and version you choose, everything becomes magical and each card acquires a special and intriguing power: it's up to you to decide when and where to use them.
Not enough for you? Easy! You'll find more nice surprises!
Add a Review for "Cartagena (2nd edition)"