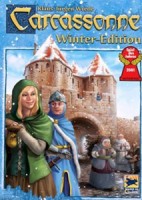 Carcassonne: Winter Edition
Winter has arrived in the beautiful Carcassonne region, but it does not seem to change the spirits of the local population. Players still build the area surrounding this impressive city, one tile at a time by placing a follower on fields, cities, roads or monasteries. These followers will become knights, monks, farmers and thieves, depending on where they are placed.
The local animals are here to keep the followers company while they build. You can also enlist the help of the Gingerbread Man who will help you through the cold winter if you use him wisely.
Carcassonne: Winter Edition brings snow to the familiar Carcassonne setting, with knights still patrolling the cities, farmers still trying to feed the nation, and highwaymen who even travel on roads behind the city walls. Carcassonne: Winter Edition, which plays the same as the Carcassonne base game, includes the same 72 tiles as Carcassonne in addition to twelve new basic tiles. The Z-Man English edition includes the Gingerbread Man Expansion.
Add a Review for "Carcassonne: Winter Edition"