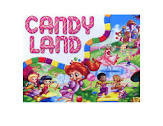 Candy Land
Start down the colorful road to sweet surprises in this classic Candy Land game that features the fun illustrations and gingerbread man movers that kids love. Players draw colorful cards to guide their mover along the rainbow path to luscious locations such as Peppermint Forest, Lollipop Palace, and Licorice Lagoon! It's such sweet fun as players race to be the first one to reach King Kandy's Castle to win! For 2-4 players.
Candy Land was inducted into the National Toy Hall of Fame in 2005.
Add a Review for "Candy Land"