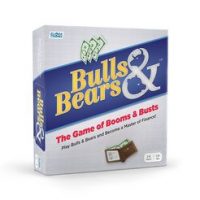 Bulls & Bears
Bulls & Bears
is a successful board game that teaches the basics of economics and investing to beginners and experts alike:
Learn how to manage your investments!
Respond to breaking news!
Answer questions that challenge your understanding of economics and finance!
But be prepared for a wild ride: unexpected events – and mean opponents – can upend the most well thought-out plans…
Add a Review for "Bulls & Bears"