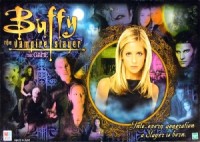 Buffy the Vampire Slayer: The Game
"Into each generation, a Slayer is born. One girl, in all the world, a Chosen One. One born with the strength and skill to hunt vampires and to stop their spread of evil."
Now it's up to you to help Buffy and her friends stop the spread of Evil in Sunnydale! Which villain and his minions will plague the town? The Master? The Judge? The Mayor? Or Adam? Each game recreates one of Buffy's four most exciting challenges... use your own strength and skill to outwit them all!
Patrol the board. Collect cards and gain power. Roll dice to fight and cast spells. Finally, rid Sunnydale of Evil to win! But don't slack... or Evil will slay you first!
Add a Review for "Buffy the Vampire Slayer: The Game"