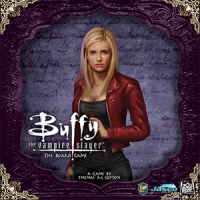 Buffy the Vampire Slayer: The Board Game (2016)
In
Buffy the Vampire Slayer: The Board Game
, players take on the roles of their favorite Characters from the television show, and work together to defeat a Big Bad (major villain).
To defeat the Big Bad, the players must first defeat three "Monsters of the Week" and research the Clues they drop to uncover the Big Bad's plot and weaknesses. While the players work to save Sunnydale, the Big Bad's influence grows and Vampires and Demons prey on the town, Killing Townies and dealing Wounds to the Characters. If too many Townies are Killed and/or too many Wounds are taken, the game is lost!
Each Round, players have 3 Basic Action Tokens to play that allow them to perform Basic Actions such as moving, fighting, and researching, and 1 Special Action Token that allows them to perform their unique Special Ability or any Basic Action. Players take turns expending 1 token at a time until all of their tokens are expended. Then, all of the Baddies that are still in play activate, Killing Townies and Wounding players.
Add a Review for "Buffy the Vampire Slayer: The Board Game (2016)"