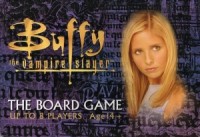 Buffy the Vampire Slayer: The Board Game
Take on the role of either a human or a vampire in the battle for control of Sunnydale. You must be vigilant and find your allies before your enemies can unite against them or against you.
Whichever character you play, you will need a combination of skill, planning, daring and luck, often just to stay alive -- or in some cases stay dead. Fate may lend a hand, or not, depending on which of the many fate cards come your way.
Seek out and align with your allies to fight and destroy your enemies, but don't wait too long, as the cycle of night and day strengthens and weakens both sides. And let's face it, you don't want to be in the graveyard on your own at midnight. Or do you?
Add a Review for "Buffy the Vampire Slayer: The Board Game"