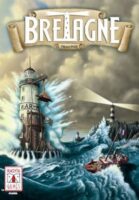 Bretagne
France, mid 1800s The Lighthouses and Lanterns Commission launches a project for the construction of new lighthouses along the coast of Brittany, in order to make waterways safer. As a daring builder, you are called to contribute to the construction of lighthouses, putting you in competition with other players to be remembered as the largest builder of lighthouses in France!
Bretagne, created by Marco Pozzi, is the new masterpiece of Placentia House: a wonderful game of controlling areas and managing resources, putting the player in front of difficult choices, making him/her assess the best tactical and strategical moves. And all of this is supported by a clean game design, simple and fluid, which allows the player to quickly understand the rules and to rapidly metabolise the game's dynamics. The publishing house has once again surrounded itself with the most loyal collaborators of all time, from Post Scriptum, for the game's development and well-kept balance, to the graphics of Scribabs, supported by the great illustrator, Alan D'Amico, hired for the first time by our publishing house. A satisfying game, both for the eyes and the mind.
Add a Review for "Bretagne"